Man, this book was a freaking behemoth! I took me FOREVER to get through this one. Does that mean I didn't like it? Not necessarily. With that being said, let's jump into it!
Disclaimer – In my read through, I skipped the abridged version of The Stand. I had no interest in reading it, so I just went] to the Uncut version.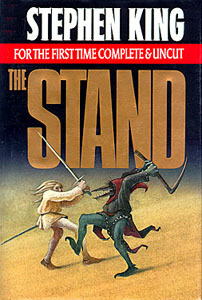 This is the way the world ends: with a nanosecond of computer error in a Defense Department laboratory and a million casual contacts that form the links in a chain letter of death. And here is the bleak new world of the day after: a world stripped of its institutions and emptied of 99 percent of its people. A world in which a handful of panicky survivors choose sides — or are chosen.
GENRE – Horror
RATING – R (intense scenes, gore, sex, language, violence, drug and alcohol use)
LENGTH – 1153 pages
PUBLISHER – Doubleday
PUBLICATION DATE – 5 / 1 / 1990
SCARE FACTOR – 2 / 5
---
Likes –
While reading this book I could tell I was reading a masterpiece. It included every element of horror without feeling overcrowded. It really didn't even fell overlong which surprised me. Sometimes King's works really drag for me, but the longest one never did. That's amazing to me.
The characters were SO real. The length of the book made me feel like I really got to know these characters. Every single one of the main characters (and even some of the secondary) had very clear arcs. I even found myself caring for some of the villains as much as the heroes.
There were actually some effective plot twists as well. Many times I was completely blindsided.
While I only rated it a 2 / 5 on the scares, there were actually some genuinely terrifying scenes While the entire book may not have been a scare fest, the scares that were there were SO good and I believe will stick with me for a long time.
Randall Flagg is a GREAT villain! He's sneaky and charming while being upfront with his evil as well. Just great.
No Dislikes!
---
Rating Breakdown
STORY 5 / 5 – The classic tale of Good vs. Evil. For the length it never dragged and made me really feel like I was there.
CHARACTERS 5 / 5- I felt like I knew every one of these characters. They made me laugh, cry, and really sit on the edge of my seat when they were in danger.
WRITING 5 / 5- Stephen King will ALWAYS get the max amount of votes from me. I'd give him 6 / 5 if I could.
UNIQUENESS 5 / 5 – A unique turn on the classic end of the world story.
ENJOYMENT 5 / 5-  There was never a dull moment with this book. I loved it!
ALL IN ALL, I GIVE THIS 5 FREE ZONES OUT OF 5!
Have you read this book? What did you think about it?
What is your favorite post-apocalyptic book?
Thanks for reading and keep it spooky!
Check out my last post on my REVIEW of the game Until Dawn HERE!
FOLLOW ME ON SOCIAL MEDIA
TWITTER    |    GOODREADS  |  LETTERBOXD  |  BOOKSTAGRAM