Man, this book was a freaking behemoth! I took me FOREVER to get through this one. Does that mean I didn't like it? Not necessarily. With that being said, let's jump into it!
Disclaimer – In my read through, I skipped the abridged version of The Stand. I had no interest in reading it, so I just went] to the Uncut version.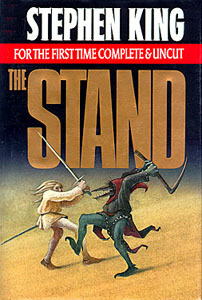 This is the way the world ends: with a nanosecond of computer error in a Defense Department laboratory and a million casual contacts that form the links in a chain letter of death. And here is the bleak new world of the day after: a world stripped of its institutions and emptied of 99 percent of its people. A world in which a handful of panicky survivors choose sides — or are chosen.
GENRE – Horror
RATING – R (intense scenes, gore, sex, language, violence, drug and alcohol use)
LENGTH – 1153 pages
PUBLISHER – Doubleday
PUBLICATION DATE – 5 / 1 / 1990
SCARE FACTOR – 2 / 5
---
Continue reading "The Stand – Stephen King || Book REVIEW (Stephen King read-through #5)" →